Latin America - Liveaboards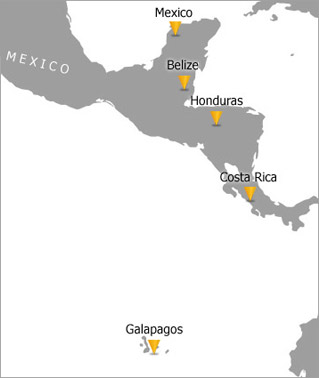 Central and South America offers a wonderful variety of spectacular scuba diving and diving holiday options. Visit the mystical Blue Hole in Belize and the 185 mile long reef second only to the Great Barrier Reef in Austalia. Experience Whale Shark encounters off Utila in the Honduras or dive with the Giant Mantas and Hammerheads off Cocos Islands. The perfect locations for a world class dive holiday.
To get the best out of diving in Latin America we offer a range of Aggressor liveaboard boats. Providing the highest standards of service, equipment and comfort, you can enjoy carefully planned itineraries. All the yachts are built and powered for comfort, safety and stability with air-conditioned ensuite single and double cabins and luxury facilities including hot tubs, satellite linked media centres and computers. Diving schedules ensure you visit the best diving in each destination with time to explore the cultural sights in the programme.

Galapagos Aggressor Liveaboard - Galapagos Islands, Latin America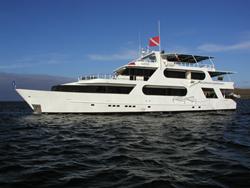 Galapagos luxury liveaboard, Aggressor allows you to dive the Galapagos staying aboard a luxury dive boat. Guests will have the opportunity to dive with playful Sea Lions, travel to the famous Darwin and Wolf for thrilling diving to see Hammerhead Sharks, Whale Sharks, clouds of Tuna and much more. The scenic view of the Darwin Arch is as picturesque as you can imagine. A maximum of four dives will be offered daily; two in the morning and two in the afternoon. In addition, two night dives and two land excursions per week will be offered. For those who love challenging diving this is the place.

Location
The Galapagos Aggressor departs from Baltra and guests will be met by a crewmember at Baltra Airport.
Accommodation


A 100 ft. yacht built and powered for comfort, safety and stability. The yacht is diesel powered, cruise at an average speed of 10 knots and have 110 and 220 volt power. Onboard are Four Deluxe Staterooms with twin beds and four Master Staterooms with 2 single beds side by side that can be made into a queen bed. Each cabin has a private toilet and shower, TV/DVD, stereo CD player, individual climate control and safe storage box.
Facilities
Air-conditioned salon and dining area with entertainment centre, large sun decks with chaise lounges, deck chairs, hot tub and a complete photo/video centre. Onboard safety equipment including defibrillator and D.A.N. oxygen system.

The menu aboard is varied and plentiful, with a variety of American feasts, barbecues and local cuisine. You will wake up to fresh fruits, hot entrees, cereals and juices. Lunches are buffet-style, featuring hot soups, homemade breads, salads and sandwiches and/or entrees. Dinners are chef prepared and served each evening and include salads, vegetables, seafood, beef or chicken with a fresh homemade dessert.
Diving
Large well designed dive deck with divers own personal dive station with seat and locker. Air/nitrox fills.
Sample Itinerary:

The following dive schedule provided is based on tides, currents, and weather conditions.
Thurs: Baltra Airport, Afternoon Greeting by Crew, Bus Transfer to the Dock (Muelle) and Boarding. Welcome, and Orientation Dive at Punta Carrion at Itabaca Channel.
Fri: 2 Morning dives; Punta Carrion (Santa Cruz Island) and Bartolome Punta. 1 afternoon dive at Bartolome Punta and hike to Bartolome Summit.
Sat: January to May: 4 Dives at Wolf; 2 morning, 2 afternoon dives. June to December: 2 morning dives, 1 afternoon and 1 night dive.
Sun: January to May: 2 morning dives at Darwin and 2 afternoon dives at Wolf. June to December: 2 morning dives and 2 afternoon dives at Darwin.
Mon: January to May: 5 dives at Cabo Marshall; 2 morning dives, 2 afternoon and 1 night dive. June to December: 2 morning dives at Darwin; and 2 afternoon dives at Wolf.
Tues: 2 morning dives at Cabo Douglas and 2 afternoon dives at Punta Vicente Roca.
Wed: 1 morning dive at Cousins Rock. Wednesday afternoon arrive at Itabaca Channel. After lunch guests will disembark at 1 pm to go ashore for a private bus tour to see the beautiful Highlands of Santa Cruz Island. This will include Los Gemelos (The Twins, two enormous sinkholes), Scalesia Forest for a scenic view over Santa Cruz, a Tortoise Reserve to see giant tortoises, and Lava Tubes.
After the hike, guests can walk through town, shop and visit the tortoise-breeding center Fausto Llerena at the Charles Darwin Research Station. Guests will have dinner ashore at a local restaurant of their choice (only meal not included in the cruise). The Galapagos Aggressor will move from Itabaca Channel to Puerto Ayora. At 10 pm the boat will depart for Baltra.
Thur: Guests will have a full breakfast then check out and depart to the Baltra Airport.
Itinerary is subject to change without notice
Note. Galapagos Park fees US$100, visitor visa US$10 and airport departure tax US$30 payable locally.

A non-refundable deposit of 35% is required at the time of booking. Final balance due 15 weeks prior to departure.



Gallery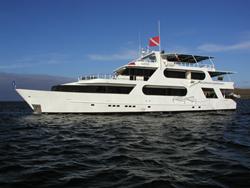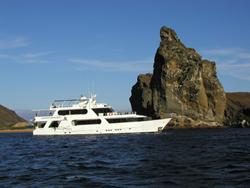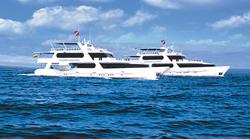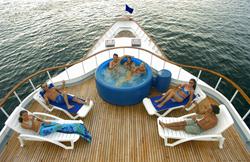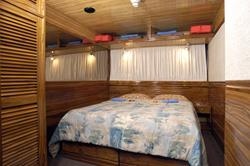 Fact File
Best Time: Year round.

Average Air temps: 21-30°C
Warm season (Jan-June) Dry season (July-Dec).

Average Water temps: 16-24°C (June-Nov), 21-30°C (Dec-May)

Visibility: 5-100m (Jan-June)
Up to 200m (July - December)

Top Dive Sites: Santa Cruz Island, Punta Carrion, Bartolome Punta, Wolf Island, Darwin Island, Cabo Douglas, Fernandina Island. Punta Vicent Roca, Isabela Island. Cousin Rocks, Cabo Marshall, Isabela Island.

Great Reasons to Dive in the Galapagos

Unique species
Luxury liveaboard - cruise in comfort.
Large pelagics - hammerheads, mantas, eagle rays (Dec-May).
Whale shark (June-Nov)
Seals & turtle
Land excursions to see the giant turtle and iguanas.