Red Sea & Middle East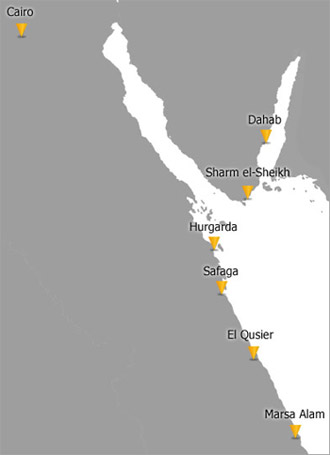 A Red Sea scuba diving holiday offers some of the most amazing dive conditions year round for all types of diving - both shore based, boat diving or on one of our specially selected liveaboards. Red Sea dive holidays offer the best value and are perfect for non-divers too.
Egypt is the Land of the Pharaohs, with abundant historical sites to visit and is the perfect paradise for year round diving holidays. The choice of hotels is vast and there is something to suit all tastes and budgets. Why not explore some of the ancient sites with an excursion to see the Pyramids or Tuthankhaun's tomb in the Valley of the Kings.
The crystal clear warm water and some of the best and most established dive centres in the world to choose from, make Egypt a wonderful experience for both first timers and annual 'pilgrims' alike. Each destination offers it own special character and variety of diving.

Oman NEW
Diving in Oman offers a year round, warm weather beach holiday destination which offers scuba divers of all levels and their non diving travelling companions a change to expore the beautiful coastline. The Sultanate of Oman is located on the Arabian Sea, on the western coast of the Gulf of Oman. The gateway to the Persian Gulf, Muscat is the...
Cairo & Nile Cruise
Extend your Red Sea scuba diving holiday with a trip to visit the sites of Ancient Egypt. Add a Nile cruise or cultural extention tours to your Red Sea diving holiday itinerary with Sportif Dive. Steeped in 3,000 years of history, Egypt is a country of incredible contrasts. Explore the colourful bustling city of Cairo, home to the Great Pyramids...
Read more about Cairo & Nile Cruise >
El Gouna
El Gouna scuba diving holidays to the southern Red Sea coast offers a year round diving holiday destination for all levels of diver, sociable and ideal for single travellers with daily boat diving. El Gouna is approximately 20km north of Hurghada and is a purpose built desert located based around a central 'downtown' area. Built...
El Quseir
El Quseir scuba diving holidays to the southern Red Sea offers a diving holiday with unexplored, virgin reef with an excellent house reef with BSAC and PADI dive centres. Only 2 hours to the south of Hurghada, El Quseir, the oldest port in this part of the Red Sea creates a totally different feel to the hustle and bustle of Hurghada....
Hurghada
Hurghada is one ot the original scuba diving holiday destinations on the southern Red Sea coast. It offers an excellent value beach or liveaboard diving holiday with around 37 dive sites including reefs, walls, caves & wrecks and choice of a hotels to suit all budgets. If you have not been to the Red Sea before, Hurghada is a good first...
Marsa Alam
Marsa Alam scuba diving holiday offers a southern Red Sea scuba diving holiday location with with uncrowded diving, pristine reefs and liveaboards options. Choose from budget, luxury spa or multi sport beach hotels or daily boat or shore diving, learn to dive packages, courses and wonderful beach location. Approximately 4 hours south of Hurghada...
Red Sea Liveaboards
Join a Red Sea liveaboard scuba diving holiday with Sportif Dive for a choice of luxury boats and Red Sea northern & southern routes covering Elphinstone and Thistlegorm amongst others. This fleet of eight liveaboards in four different category standards – Bronze, Silver, Gold and Platinum. Boats depart almost weekly from...
Read more about Red Sea Liveaboards >
Safaga
Safaga offers scuba diving holidays for learn to dive, novices and the more experienced diver with great reef diving and wrecks to explore and a superb beach holiday location. A small, peaceful and informal resort on the northern edge of a perfect crescent sandy bay, sweeping some five miles across crystal waters. Along the length of this...
Sharm El Sheikh
Sharm El Sheik in the Red Sea offers a scuba diving holiday with world class dive sites such as Ras Mohammed & famous wrecks such as the SS Thistlegorm. Sharm lies on the southern tip of the Sinai peninsular and has become a large cosmopolitan bustling and vibrant town, in huge contrast to the once fishing village of more than 10 years ago....
Read more about Sharm El Sheikh >
Sudan
Sudan offers a luxury liveaboard diving holiday with some of the best wrecks in the world along with excellent diving in the Southern Red Sea. Consider our Luxury liveaboard choice in Sudan in the Red Sea for uncrowded, untouched and unending choice of pristine dive sites. Located in the southern Red Sea, just south of Egypt, connections are...